Here you can play a memory game online for free and without registration.
The BOUNCING MEMORY Game works on the principle of classic memory games, also known as pairs or concentrationy – but it is a bit more difficult!
That's how it works
So that it doesn't get boring, there are many different picture sets and new ones are constantly being added.
Have fun with the BOUNCING MEMORY Game!
play a memory
That's how it works:
The cards are face down on the table.
Click on a card to see what's in the picture.
Click on another card to see the picture as well.
If the picture is the same on both cards (or the pictures match), they disappear.
If not, they will be flipped over and you can try until all cards are gone.
But: Depending on the settings, the cards move, so they change their position and you have to keep an eye on them in order to find all pairs.
Why playing BOUNCING MEMORY?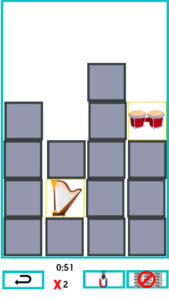 With this game you can not only train your memory, but also your endurance, your concentration and your patience.
By choosing the number of cards (from just three pairs to twenty pairs!), but also by selecting the pictures (from simple objects and terms that are easy to remember to complex and abstract shapes) many different levels of difficulty are possible.
And then you can also adjust the mobility of the cards!
They can stay still like a classic game. The cards can always slide down – it will be more difficult.
And they can be whirled around wildly, turning, hovering, falling, … – this is where observation skills and concentration are put to the test.
Children, adults, seniors – thanks to the many different settings and picture sets there is something for everyone.